Steven Soderbergh, one of my favorite film directors, has been cataloging the movies, TV shows, and plays he has watched, along with the books and short stories he has read over the period of a year and then publishing the list every year since 2009. He just published his Seen, Read 2014 list in early January — and the FiveThirtyEight DataLab turned it into an eye-catching, informative graph.
I've tried a couple of datalogging and visualization services to try to reproduce some of this for myself — Daytum and Reporter, both of which included the formidable data visualization talents of Nicholas Felton. Neither of them really worked for me long term and I stopped using them regularly, which obviously defeats the point of fastidiously logging all manner of details of your life. In early 2014 I decided I would just track a handful of things, and do so in the most basic way possible — by entering them into a list I kept on a writing app on my phone.
Below are the results of my media consumption for all of 2014.
Trivia
I watched 176 TV shows, 59 movies, and read 4 books
I must like political and public relations dramas, as I watched 37 episodes of The West Wing and 23 episodes of House of Cards
My "heaviest" day was on February 20, where I watched 5 TV shows — 2 episodes of Girls and 3 episodes of The West Wing
The three "major" gaps in May, June, and July were respectively caused by attending Primavera Sound, E3 2014, and the European press tour for The Last of Us Remastered — my only saving grace was finishing a book in the middle of 9 days of travel
Seen, Read 2014 visualized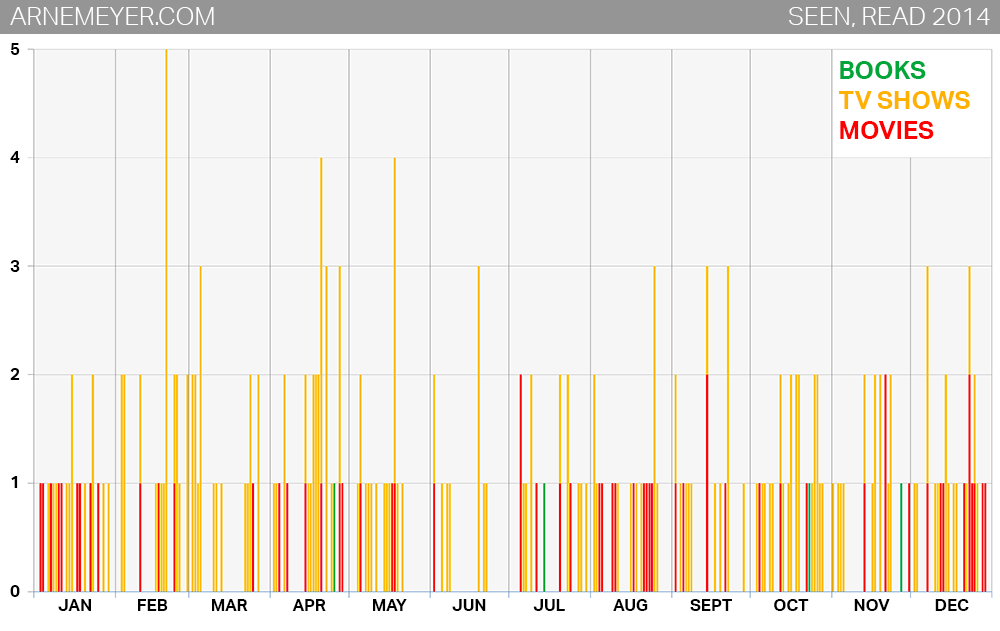 The Seen, Read 2014 list
All caps, bold: MOVIE
All caps: TV SERIES
All caps, italics: BOOK
Quotation marks: "Play"
Italics, Quotation marks: "Short Story"
01/03/2014 12 YEARS A SLAVE
01/04/2014 HER
01/06/2014 THE WEST WING
01/07/2014 DECEPTIVE PRACTICE: THE MYSTERIES AND MENTORS OF RICKY JAY
01/08/2014 AMERICAN HORROR STORY: COVEN
01/09/2014 THE WEST WING
01/10/2014 BLUE IS THE WARMEST COLOR
01/11/2014 ENOUGH SAID
01/13/2014 GIRLS
01/14/2014 THE WEST WING
01/15/2014 AMERICAN HORROR STORY: COVEN, THE WEST WING
01/17/2014 SHORT TERM 12
01/18/2014 THE WOLF OF WALL STREET
01/20/2014 THE WEST WING
01/22/2014 CAPTAIN PHILLIPS
01/23/2014 AMERICAN HORROR STORY: COVEN, THE WEST WING
01/25/2014 IN A WORLD…
01/27/2014 THE WEST WING
01/29/2014 AMERICAN HORROR STORY: COVEN
02/03/2014 THE WEST WING (2 episodes)
02/04/2014 THE WEST WING (2 episodes)
02/10/2014 THE ACT OF KILLING, THE WEST WING
02/16/2014 THE WEST WING
02/17/2014 DALLAS BUYERS CLUB
02/19/2014 THE WEST WING
02/18/2014 THE WEST WING
02/20/2014 GIRLS (2 episodes), THE WEST WING (3 episodes)
02/20/2014 THE WEST WING
02/23/2014 TRAINSPOTTING, GIRLS
02/24/2014 TRUE DETECTIVE (2 episodes)
02/25/2014 TRUE DETECTIVE
02/28/2014 TRUE DETECTIVE (2 episodes)
03/02/2014 THE WEST WING (2 episodes)
03/03/2014 TRUE DETECTIVE (2 episodes)
03/04/2014 THE WEST WING
03/05/2014 GIRLS, SCANDAL, THE WEST WING
03/10/2014 TRUE DETECTIVE
03/11/2014 THE WEST WING
03/13/2014 THE WEST WING
03/22/2014 THE WEST WING
03/23/2014 GIRLS
03/24/2014 GIRLS (2 episodes)
03/25/2014 NOW YOU SEE ME
03/27/2014 DOLL & EM (2 episodes)
04/02/2014 THE WALKING DEAD
04/03/2014 THE WEST WING
04/04/2014 FINDING VIVIAN MAIER
04/06/2014 SILICON VALLEY, GAME OF THRONES
04/07/2014 SYRIANA
04/14/2014 CALIFORNICATION, FORREST GUMP
04/15/2014 GAME OF THRONES
04/16/2014 HOUSE OF CARDS
04/17/2014 HOUSE OF CARDS (2 episodes)
04/18/2014 HOUSE OF CARDS (2 episodes)
04/19/2014 HOUSE OF CARDS, FARGO
04/20/2014 THE GRAND BUDAPEST HOTEL, GAME OF THRONES, HOUSE OF CARDS (2 episodes)
04/22/2014 HOUSE OF CARDS (2 episodes), CALIFORNICATION
04/24/2014 THE WEST WING
04/25/2014 A GAME OF THRONES
04/27/2014 ONLY LOVERS LEFT ALIVE, CALIFORNICATION, GAME OF THRONES
04/28/2014 ARGO
05/04/2014 GAME OF THRONES
05/05/2014 THE SECRET LIFE OF WALTER MITTY, HOUSE OF CARDS
05/07/2014 CALIFORNICATION
05/08/2014 THE WEST WING
05/09/2014 HOUSE OF CARDS
05/11/2014 GAME OF THRONES
05/14/2014 THE WEST WING
05/15/2014 THE WEST WING
05/16/2014 THE WEST WING
05/17/2014 SEVEN
05/18/2014 THE OTHER WOMAN, SEX & THE CITY (2 episodes), GAME OF THRONES
05/19/2014 HOUSE OF CARDS
05/21/2014 THE WEST WING
06/02/2014 THE HOBBIT: THE DESOLATION OF SMAUG, GAME OF THRONES
06/05/2014 THE WEST WING
06/07/2014 ORANGE IS THE NEW BLACK
06/08/2014 GAME OF THRONES
06/19/2014 ORANGE IS THE NEW BLACK, HOUSE OF CARDS, GAME OF THRONES
06/21/2014 THE WEST WING
06/22/2014 THE WEST WING
07/05/2014 HIGH FIDELITY, THIS IS THE END
07/06/2014 HOUSE OF CARDS
07/07/2014 ORANGE IS THE NEW BLACK
07/09/2014 ORANGE IS THE NEW BLACK (2 episodes)
07/11/2014 THE COUNSELOR
07/14/2014 A CLASH OF KINGS
07/20/2014 WRECK-IT RALPH, ORANGE IS THE NEW BLACK
07/23/2014 ORANGE IS THE NEW BLACK (2 episodes)
07/24/2014 LUCY
07/27/2014 ORANGE IS THE NEW BLACK
07/28/2014 ORANGE IS THE NEW BLACK
07/30/2014 HOUSE OF CARDS
08/02/2014 ORANGE IS THE NEW BLACK (2 episodes)
08/03/2014 HOUSE OF CARDS
08/04/2014 GUARDIANS OF THE GALAXY
08/05/2014 PULP – A FILM ABOUT LIFE, DEATH & SUPERMARKETS
08/09/2014 BOYHOOD
08/10/2014 A GIRL WALKS HOME ALONE AT NIGHT
08/11/2014 HOUSE OF CARDS
08/16/2014 THE MIND OF A CHEF
08/17/2014 PALO ALTO
08/18/2014 LAW & ORDER: SPECIAL VICTIMS UNIT
08/20/2014 LAW & ORDER: SPECIAL VICTIMS UNIT
08/21/2014 HACKERS
08/22/2014 IF I STAY
08/23/2014 DIRTY WARS
08/24/2014 ARGO
08/25/2014 HOUSE OF CARDS, THE MIND OF A CHEF, BOJACK HORSEMAN
08/26/2014 THE MIND OF A CHEF
09/02/2014 SPINNING PLATES, THE MIND OF A CHEF
09/04/2014 HOUSE OF CARDS
09/05/2014 HEY BARTENDER
09/06/2014 HOUSE OF CARDS
09/07/2014 HOUSE OF CARDS
09/08/2014 HOUSE OF CARDS
09/14/2014 ENDER'S GAME, THE MIND OF A CHEF, FILTH
09/17/2014 THE MIND OF A CHEF
09/19/2014 SONS OF ANARCHY
09/21/2014 OUTRAGE
09/28/2014 SONS OF ANARCHY
09/22/2014 CALIFORNICATION (2 episodes), THE MIND OF A CHEF
10/03/2014 SELFIE
10/04/2014 GONE GIRL
10/05/2014 HOMELAND
10/06/2014 HOMELAND
10/08/2014 AMERICAN HORROR STORY: FREAK SHOW
10/09/2014 SONS OF ANARCHY
10/12/2014 MEN, WOMEN & CHILDREN, HOMELAND
10/13/2014 THE AFFAIR
10/15/2014 AMERICAN HORROR STORY: FREAK SHOW
10/16/2014 SELFIE (2 episodes)
10/18/2014 SONS OF ANARCHY (2 episodes)
10/19/2014 THE AFFAIR, HOMELAND
10/22/2014 X-MEN: DAYS OF FUTURE PAST
10/23/2014 SEX CRIMINALS #1–8
10/24/2014 THE MIND OF A CHEF
10/25/2014 AMERICAN HORROR STORY: FREAK SHOW, SONS OF ANARCHY
10/26/2014 THE AFFAIR, HOMELAND
10/27/2014 THE MIND OF A CHEF
10/28/2014 SONS OF ANARCHY
11/01/2014 AMERICAN HORROR STORY: FREAK SHOW
11/03/2014 HOMELAND
11/04/2014 SONS OF ANARCHY
11/05/2014 AMERICAN HORROR STORY: FREAK SHOW
11/13/2014 INTERSTELLAR, SONS OF ANARCHY
11/16/2014 HOMELAND
11/17/2014 THE AFFAIR, THE NEWSROOM
11/19/2014 SONS OF ANARCHY, THE NEWSROOM
11/21/2014 THE HUNGER GAMES: MOCKINGJAY – PART 1, INCEPTION
11/22/2014 HOMELAND
11/23/2014 HOMELAND, THE NEWSROOM
11/27/2014 A STORM OF SWORDS
11/30/2014 LE WEEK-END
12/02/2014 SONS OF ANARCHY
12/03/2014 THE NEWSROOM
12/07/2014 HOMELAND, THE NEWSROOM, LONE SURVIVOR
12/10/2014 SONS OF ANARCHY
12/11/2014 AMERICAN HORROR STORY: FREAK SHOW
12/12/2014 A MOST WANTED MAN
12/13/2014 THE HOLIDAY
12/14/2014 HOMELAND, THE NEWSROOM
12/15/2014 BEHIND ENEMY LINES
12/17/2014 AMERICAN HORROR STORY: FREAK SHOW
12/18/2014 THE MIND OF A CHEF
12/21/2014 HOME ALONE
12/22/2014 HOMELAND
12/23/2014 THE WOLVERINE, THE FAMILY STONE, GAME OF THRONES
12/24/2014 NATIONAL LAMPOON'S CHRISTMAS VACATION
12/25/2014 REHEARSALS FOR EXTINCT ANATOMIES, ENTOURAGE
12/26/2014 THE WEST WING
12/28/2014 WORLD WAR Z
12/29/2014 BIG EYES