One of my favorite film directors, Steven  Soderbergh, has been cataloging the movies, TV shows, and plays he has watched, along with the books and short stories he has read, over the period of a year and then publishing the list every year since 2009. The FiveThirtyEight DataLab turned his 2014 list into an eye-catching, informative graph.
You can find Steven's 2015 list here: Seen, Read 2015.
Inspired by both the data tracking and resulting visualization, I started tracking what I watched and read throughout the year. I posted my own Seen, Read 2014 last year. I've continued keeping track since then — below are the results of my media consumption for all of 2015.
I still haven't figured out how I would want to track playing video games, perhaps that's something for the 2017 tracking year. It also appears that I'm not diligent enough to track the comic books I read beyond those in graphic novel or trade paperback formats.
Trivia
I watched 147 TV shows (

-29

vs 2014), 54 movies (

-5

vs 2014), and read 12 books (

+8

vs 2014).
My "heaviest" days were on March 19 and 20, where I watched 6 TV shows each day — a varied mix that included Better Call Saul, VICE, Real Time with Bill Maher, Sex and the City, House of Cards, Backstrom, and Unbreakable Kimmy Schmidt.
I watched 5 movies in one day — on August 10, on a flight back from Europe.
Travel heavily affected my ability to watch and read — you can see the impact of my increased travel schedule from June through early December when I logged 94,279 flight miles over 63 flights. That's 72% of my total 2015 travel in just 6 months. The 2015 total was an incredible 130,563 miles in 92 flights.
Seen, Read 2015 visualized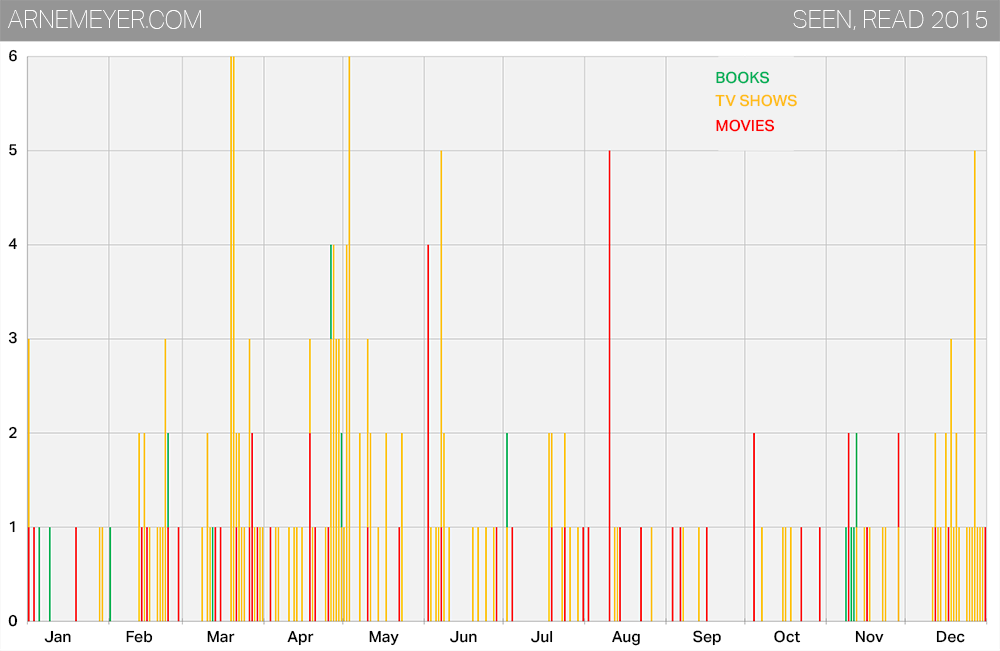 The Seen, Read 2015 list
All caps, bold: MOVIE
All caps: TV SERIES
All caps, italics: BOOK
Quotation marks: "Play"
01/01/2015 GONE GIRL, HANNIBAL (2 episodes)
01/03/2015 BLUE IS THE WARMEST COLOR
01/05/2015 PYBRAC (Pierre Louÿs)
01/09/2015 THE YOUNG GIRL'S HANDBOOK OF GOOD MANNERS (Pierre Louÿs)
01/19/2015 AMERICAN SNIPER
01/28/2015 GIRLS
01/29/2015 GIRLS
02/01/2015 THE STORY OF O
02/12/2015 THE GOOD WIFE (2 episodes)
02/13/2015 THE EDGE OF TOMORROW
02/14/2015 BETTER CALL SAUL (2 episodes)
02/15/2015 FIFTY SHADES OF GREY
02/16/2015 GIRLS
02/19/2015 BOB'S BURGERS
02/20/2015 BETTER CALL SAUL
02/21/2015 GIRLS
02/22/2015 GIRLS (2 episodes), SIMON SCHAMA'S POWER OF ART: CARAVAGGIO
02/23/2015 UNDER THE SKIN, SUNSTONE (Stjepan Šejic, Linda Lukšic Šejic)
02/27/2015 CHINATOWN
03/08/2015 BETTER CALL SAUL
03/10/2015 GIRLS (2 episodes)
03/11/2015 BETTER CALL SAUL
03/12/2015 A FEAST FOR CROWS (George R.R. Martin)
03/13/2015 CITY OF GOLD
03/15/2015 TRAINWRECK (work in progress)
03/19/2015 BETTER CALL SAUL, VICE (2 episodes), REAL TIME WITH BILL MAHER,
SEX AND THE CITY (2 episodes)
03/20/2015 UNBREAKABLE KIMMY SCHMIDT, BACKSTROM, BETTER CALL SAUL, VICE,
REAL TIME WITH BILL MAHER, HOUSE OF CARDS
03/21/2015 BIRDMAN, HOUSE OF CARDS
03/22/2015 GIRLS, HOUSE OF CARDS
03/23/2015 HOUSE OF CARDS
03/24/2015 BETTER CALL SAUL
03/26/2015 HOUSE OF CARDS (2 episodes), DOGTOOTH
03/27/2015 IN THE REALM OF THE SENSES
03/28/2015 HOUSE OF CARDS
03/29/2015 GOING CLEAR: SCIENTOLOGY & THE PRISON OF BELIEF
03/30/2015 HOUSE OF CARDS
03/31/2015 HOUSE OF CARDS
04/03/2015 WHILE WE'RE YOUNG
04/05/2015 GAME OF THRONES
04/06/2015 HOUSE OF CARDS
04/10/2015 HOUSE OF CARDS
04/12/2015 GAME OF THRONES
04/13/2015 HOUSE OF CARDS
04/15/2015 BETTER CALL SAUL
04/18/2015 VICE, TAMMY, KINK
04/19/2015 GAME OF THRONES
04/20/2015 WATCHMEN
04/24/2015 BETTER CALL SAUL
04/25/2015 CHEF
04/26/2015 BROAD CITY (3 episodes), WIRED FOR LOVE (Stan Tatkin)
04/27/2015 GAME OF THRONES, BROAD CITY (3 episodes)
04/28/2015 BROAD CITY (3 episodes)
04/29/2015 BROAD CITY (3 episodes)
04/30/2015 BROAD CITY, NOT THAT KIND OF GIRL (Lena Dunham)
05/01/2015 BROAD CITY
05/02/2015 CHEF'S TABLE, BROAD CITY, HALT AND CATCH FIRE (2 episodes)
05/03/2015 HALT AND CATCH FIRE (5 episodes), GAME OF THRONES
05/07/2015 INSIDE AMY SCHUMER, HALT AND CATCH FIRE
05/10/2015 KURT COBAIN: MONTAGE OF HECK, GAME OF THRONES, HALT AND CATCH FIRE
05/11/2015 HALT AND CATCH FIRE, HANNIBAL
05/14/2015 HANNIBAL
05/17/2015 GAME OF THRONES, BROAD CITY
05/22/2015 MAD MAX: FURY ROAD
05/23/2015 ENTOURAGE (2 episodes)
06/02/2015 THE HOBBIT: THE BATTLE OF FIVE ARMIES, EX MACHINA, BLACKHAT, THE IMITATION GAME
06/03/2015 GAME OF THRONES
06/05/2015 HANNIBAL
06/06/2015 GAME OF THRONES
06/07/2015 ENTOURAGE, 30 ROCK (4 episodes)
06/08/2015 GAME OF THRONES, HALT AND CATCH FIRE
06/10/2015 HALT AND CATCH FIRE
06/19/2015 GAME OF THRONES
06/21/2015 TRUE DETECTIVE
06/24/2015 HALT AND CATCH FIRE
06/27/2015 HALT AND CATCH FIRE
06/28/2015 RED ARMY
07/02/2015 A DANCE WITH DRAGONS (George R.R. Martin), VICE
07/04/2015 TOP GUN
07/18/2015 INSIDE AMY SCHUMER (2 episodes)
07/19/2015 TRAINWRECK, INSIDE AMY SCHUMER
07/23/2015 INSIDE AMY SCHUMER
07/24/2015 COMEDY CENTRAL PRESENTS AMY SCHUMER, 7 DAYS IN HELL
07/26/2015 BALLERS
07/29/2015 HANNIBAL
07/31/2015 COFFEE IN BERLIN
08/02/2015 VICTORIA
08/10/2015 MARVEL'S AVENGERS: AGE OF ULTRON, CHAPPIE, TOMORROWLAND, TOP FIVE, (500) DAYS OF SUMMER
08/12/2015 HANNIBAL
08/13/2015 HANNIBAL
08/14/2015 HACKERS
08/22/2015 MISTRESS AMERICA
08/26/2015 HANNIBAL
09/03/2015 MAD MAX: FURY ROAD
09/06/2015 MAD MAX: FURY ROAD
09/07/2015 HANNIBAL
09/13/2015 HANNIBAL
09/16/2015 INSIDE OUT
10/04/2015 INHERENT VICE, OFFICE SPACE
10/07/2015 NO RESERVATIONS
10/15/2015 THE LAYOVER WITH ANTHONY BOURDAIN
10/16/2015 AMERICAN HORROR STORY: HOTEL
10/18/2015 AMY SCHUMER: LIVE AT THE APOLLO
10/22/2015 DOPE
10/29/2015 THE BROKEN CIRCLE BREAKDOWN
11/08/2015 JUSTINE, OR THE MISFORTUNES OF VIRTUE (Marquis de Sade)
11/09/2015 MISSION IMPOSSIBLE: ROGUE NATION, CLOUDS OF SILS MARIA
11/10/2015 SAGA VOL. 1 (Brian K. Vaughn, Fiona Staples)
11/11/2015 SAGA VOL. 2 (Brian K. Vaughn, Fiona Staples)
11/12/2015 REAL TIME WITH BILL MAHER, SAGA VOL. 3 (Brian K. Vaughn, Fiona Staples)
11/15/2015 AMERICAN HORROR STORY: HOTEL
11/16/2015 THE GIRL WITH THE DRAGON TATTOO
11/17/2015 AMERICAN HORROR STORY: HOTEL
11/22/2015 AMERICAN HORROR STORY: HOTEL
11/23/2015 AMERICAN HORROR STORY: HOTEL
11/28/2015 AMERICAN HORROR STORY: HOTEL
11/28/2015 GUARDIANS OF THE GALAXY, LOST IN TRANSLATION
12/11/2015 THE TWILIGHT ZONE
12/12/2015 THE HUNGER GAMES: MOCKINGJAY PART 2, JESSICA JONES
12/13/2015 JESSICA JONES
12/14/2015 AMERICAN HORROR STORY: HOTEL
12/16/2015 AMERICAN HORROR STORY: HOTEL, JESSICA JONES
12/17/2015 BROOKLYN
12/18/2015 AMERICAN HORROR STORY: HOTEL (3 episodes)
12/19/2015 AMERICAN HORROR STORY: HOTEL
12/20/2015 AMERICAN HORROR STORY: HOTEL (2 episodes)
12/21/2015 REAL TIME WITH BILL MAHER
12/24/2015 JESSICA JONES
12/25/2015 JESSICA JONES
12/26/2015 JESSICA JONES
12/27/2015 JESSICA JONES (5 episodes)
12/28/2015 JESSICA JONES
12/29/2015 JESSICA JONES
12/30/2015 THE MIND OF A CHEF
12/31/2015 THE HATEFUL EIGHT