There's no doubt 2020 was a strange, unexpected year in many ways. The combination of pandemic health orders and working from home from mid-March through the end of the year had a positive effect on my media consumption: a 181% increase overall from the previous year. With everything that has been going on, I felt fortunate that I was able to find so many outlets to immerse myself in and be inspired from.
A little background on why I'm keeping this list: many years ago, I found that one of my favorite film directors, Steven Soderbergh, has been cataloging and publishing a list of the movies, TV shows, plays, and more. I liked that concept and started to keep record of what I was watching and reading as well. In 2015, FiveThirtyEight turned his Seen, Read 2014 list into an eye-catching, informative graph and I decided to do the same.
I started in 2014 and have published my list every year so far.
If you're interested you can find Steven's lists from prior years here: 2020, 2019, 2018, 2017, 2016, 2015 2014, 2013, 2012, 2011, 2010, 2009.
Trivia
I watched 314 TV shows (

+115

vs 2019), 143 movies (

+88

vs 2019), and read 10 books (

+7

vs 2019).
My busiest days were on February 16 and March 19, propelled by watching a bunch of TV shows.
Despite the huge jump in the number of movies I watched, double features were still rare and only happened twice in late 2020. The first time was back to back viewings of "Back to the Future" and "Back to the Future Part II". The second occurred when I watched the animated 1978 "The Lord of the Rings", followed by "Spider-Man: Into the Spider-Verse".
Seen, Read 2020 visualized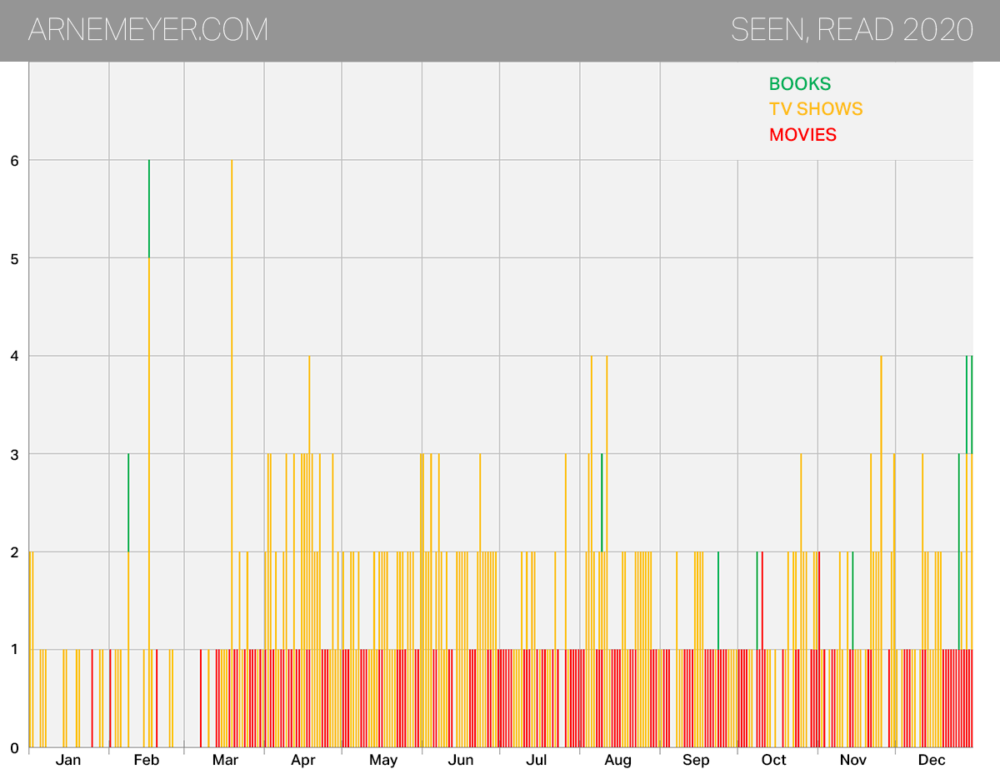 The Seen, Read 2020 list
All caps, bold: MOVIE
All caps: TV SERIES
All caps, italics: BOOK
Quotation marks: "Play"
01/01/2020 TOM CLANCY'S JACK RYAN, WATCHMEN
01/02/2020 THE WITCHER (2 episodes)
01/05/2020 BLACK SPOT
01/06/2020 BLACK SPOT
01/07/2020 BLACK SPOT
01/14/2020 BLACK SPOT
01/15/2020 BLACK SPOT
01/19/2020 THE MANDALORIAN
01/20/2020 THE MANDALORIAN
01/25/2020 PARASITE
01/28/2020 THE MANDALORIAN
01/29/2020 THE WITCHER
02/01/2020 HOW TO GET AHEAD IN ADVERTISING
02/03/2020 STAR TREK: THE NEXT GENERATION
02/04/2020 THE WITCHER
02/05/2020 THE WITCHER
02/08/2020 TOAST OF LONDON (2 episodes), BLOODBORNE: A SONG OF CROWS (Ales Kot, Piotr Kowalski)
02/14/2020 THE LIGHTHOUSE
02/16/2020 BLOODBORNE: THE VEIL, TORN ASUNDER (Ales Kot, Piotr Kowalski), THE WITCHER, TOM CLANCY'S JACK RYAN 4 episodes)
02/17/2020 STAR TREK: THE NEXT GENERATION
02/19/2020 THE REPORT
02/24/2020 STAR TREK: THE NEXT GENERATION
02/25/2020 THE WITCHER
03/07/2020 KNIVES OUT
03/10/2020 THE WITCHER
03/13/2020 SUSPIRIA
03/14/2020 THE TENTH VICTIM
03/15/2020 WESTWORLD
03/16/2020 DEVS
03/17/2020 THE ADVENTURES OF SABRINA
03/18/2020 DOCTOR SLEEP
03/19/2020 STAR TREK: THE NEXT GENERATION, CHINA IL (3 episodes), BOB'S BURGERS, LETTERKENNY
03/20/2020 THE PRINCESS BRIDE
03/21/2020 WRECK IT RALPH
03/22/2020 DEVS, TOAST OF LONDON
03/23/2020 THE ADVENTURES OF SABRINA
03/24/2020 SPY
03/25/2020 DEVS (2 episodes)
03/26/2020 BOTTLESHOCK
03/27/2020 THE FLY
03/28/2020 SHALLOW GRAVE
03/29/2020 WESTWORLD
03/30/2020 ZODIAC
03/31/2020 KILLING EVE
04/01/2020 10 THINGS I HATE ABOUT YOU, TOAST OF LONDON
04/02/2020 KILLING EVE (2 episodes), SPACED
04/03/2020 EX MACHINA, TOAST OF LONDON (2 episodes)
04/04/2020 GOLDENEYE
04/05/2020 WESTWORLD, KILLING EVE
04/06/2020 KILLING EVE
04/07/2020 EL DIA DE LA BESTIA
04/08/2020 BIRDS OF PREY (AND THE FANTABULOUS EMANCIPATION OF ONE HARLEY QUINN), TOAST OF LONDON
04/09/2020 GENTEFIED (3 episodes)
04/10/2020 SHOWGIRLS
04/11/2020 ONWARD
04/12/2020 WESTWORLD, DEVS (2 episodes)
04/13/2020 THE BURBS
04/14/2020 INTERSTELLAR
04/15/2020 WHAT WE DO IN THE SHADOWS (3 episodes)
04/16/2020 DEVS, WHAT WE DO IN THE SHADOWS (2 episodes)
04/17/2020 THE GENTLEMEN, WHAT WE DO IN THE SHADOWS (2 episodes)
04/18/2020 UNDERWATER, WHAT WE DO IN THE SHADOWS (3 episodes)
04/19/2020 WESTWORLD, KILLING EVE, ADAM RUINS EVERYTHING
04/20/2020 KILLING EVE, WHAT WE DO IN THE SHADOWS
04/21/2020 KILLING EVE, SPACED
04/22/2020 KILLING EVE, WHAT WE DO IN THE SHADOWS, SPACED
04/23/2020 TOTAL RECALL
04/24/2020 FIRE IN THE SKY
04/25/2020 CABIN IN THE WOODS
04/26/2020 WESTWORLD
04/27/2020 KILLING EVE, WHAT WE DO IN THE SHADOWS, CHINA, IL
04/28/2020 KILLING EVE
04/29/2020 KILLING EVE (2 episodes)
04/30/2020 WHAT WE DO IN THE SHADOWS
05/01/2020 THE WICKER MAN (1973), SPACED
05/02/2020 A NIGHTMARE ON ELM STREET
05/03/2020 WESTWORLD
05/04/2020 KILLING EVE (2 episodes)
05/05/2020 KILLING EVE, SPACED
05/06/2020 RUN
05/07/2020 WHAT WE DO IN THE SHADOWS, SPACED
05/08/2020 EVENT HORIZON
05/09/2020 GOODNIGHT MOMMY
05/10/2020 COLOSSAL
05/11/2020 MAN IN THE HIGH CASTLE
05/12/2020 MAN IN THE HIGH CASTLE
05/13/2020 MAN IN THE HIGH CASTLE, TOAST OF LONDON
05/14/2020 WHAT WE DO IN THE SHADOWS
05/15/2020 THE CUTTING EDGE, SPACED
05/16/2020 JOKER, TOAST OF LONDON
05/17/2020 KILLING EVE, TOAST OF LONDON
05/18/2020 MAN IN THE HIGH CASTLE, LAST WEEK TONIGHT WITH JOHN OLIVER
05/19/2020 MAN IN THE HIGH CASTLE
05/20/2020 MAN IN THE HIGH CASTLE
05/21/2020 MAN IN THE HIGH CASTLE
05/22/2020 BORDER, TOAST OF LONDON
05/23/2020 EDGE OF TOMORROW, TRAVEL MAN
05/24/2020 RALPH BREAKS THE INTERNET, TRAVEL MAN
05/25/2020 THE TRIP
05/26/2020 MAN IN THE HIGH CASTLE, TOAST OF LONDON
05/27/2020 MAN IN THE HIGH CASTLE, TOAST OF LONDON
05/28/2020 MAN IN THE HIGH CASTLE, TOAST OF LONDON
05/29/2020 TOPKAPI
05/30/2020 THE HUSTLE
05/31/2020 SPACE FORCE, DOCTOR WHO (2 episodes)
06/01/2020 SPACE FORCE, TOAST OF LONDON (2 episodes)
06/02/2020 WHAT WE DO IN THE SHADOWS (2 episodes)
06/03/2020 MYTHIC QUEST: RAVEN'S BANQUET, SHRILL
06/04/2020 MYTHIC QUEST: RAVEN'S BANQUET, SHRILL (2 episodes)
06/05/2020 STARSHIP TROOPERS
06/06/2020 THIS IS THE END, WHAT WR DO IN THE SHADOWS
06/07/2020 THE BORGIAS, LAST WEEK TONIGHT WITH JOHN OLIVER, SHRILL
06/08/2020 MYTHIC QUEST: RAVEN'S BANQUET, SHRILL
06/09/2020 MYTHIC QUEST: RAVEN'S BANQUET
06/10/2020 SPACE FORCE (2 episodes)
06/11/2020 PORNO
06/12/2020 FORD V FERRARI
05/13/2020 BILL AND TED'S EXCELLENT ADVENTURE, TOAST OF LONDON
06/14/2020 SPACE FORCE, MYTHIC QUEST: RAVEN'S BANQUET
06/15/2020 SPACE FORCE, SHRILL
06/16/2020 WHAT WE DO IN THE SHADOWS, SHRILL
06/17/2020 MYTHIC QUEST: RAVEN'S BANQUET, SPACE FORCE
06/18/2020 MYTHIC QUEST: RAVEN'S BANQUET, SPACE FORCE
06/19/2020 PACIFIC RIM
06/20/2020 DUNE
06/21/2020 TAMPOPO
06/22/2020 MYTHIC QUEST: RAVEN'S BANQUET, SPACE FORCE
06/23/2020 MYTHIC QUEST: RAVEN'S BANQUET, IT'S ALWAYS SUNNY IN PHILADELPHIA (2 episodes)
06/24/2020 MYTHIC QUEST: RAVEN'S BANQUET, SPACE FORCE
06/25/2020 STAR TREK: THE NEXT GENERATION, WHITES
06/26/2020 QUANTUM OF SOLACE, WHITES
06/27/2020 WILD THINGS, WHITES
06/28/2020 DARK, TOAST OF LONDON
06/29/2020 MAX HEADROOM (2 episodes)
06/30/2020 SKYFALL
07/01/2020 INGLORIOUS BASTERDS
07/02/2020 JURASSIC PARK
07/03/2020 KNIVES AND SKIN
07/04/2020 SPECTRE
07/05/2020 JAWS
07/06/2020 DARK
07/07/2020 DARK
07/08/2020 DARK
07/09/2020 DARK, CHERNOBYL
07/10/2020 EUROVISION SONG CONTEST: THE STORY OF FIRE SAGA
07/11/2020 THIRST, WHITES
07/12/2020 DROP DEAD GORGEOUS
07/13/2020 DARK, WHITES
07/14/2020 THE PRISONER (2 episodes)
07/15/2020 ALIEN 3
07/16/2020 DARK
07/17/2020 PALM SPRINGS
07/18/2020 BUFFY THE VAMPIRE SLAYER
07/19/2020 DARK
07/20/2020 JESSICA JONES
07/21/2020 STAR TREK: INTO DARKNESS
07/22/2020 HOW TO SELL DRUGS ONLINE (FAST) (2 episodes)
07/23/2020 SHAUN OF THE DEAD
07/26/2020 DIRTY ROTTEN SCOUNDRELS* CHERNOBYL (2 episodes)
07/27/2020 AMERICAN GODS
07/28/2020 TOMORROW NEVER DIES
07/29/2020 I AM LEGEND
07/30/2020 BIG NIGHT
07/31/2020 SUNSHINE
08/01/2020 CANDYMAN
08/02/2020 YAKUZA APOCALYPSE
08/03/2020 JESSICA JONES, GENTEFIED
08/04/2020 AMERICAN GODS, LAST WEEK TONIGHT WITH JOHN OLIVER, CHERNOBYL
08/05/2020 FLEABAG (4 episodes)
08/06/2020 JESSICA JONES, FLEABAG
08/07/2020 BRAM STOKER'S DRACULA
08/08/2020 GLASS, FLEABAG
08/09/2020 COHERENCE, FLEABAG, SO YOU WANT TO TALK ABOUT RACE (Ijeoma Oluo)
08/10/2020 FLEABAG (2 episodes)
08/11/2020 FLEABAG (2 episodes), THE GOOD PLACE (2 episodes)
08/12/2020 AMERICAN GODS, THE GREAT BRITISH BAKE-OFF
08/13/2020 THE THING (1982)
08/14/2020 PORTRAIT OF A LADY ON FIRE
08/15/2020 THE GIRL WITH THE DRAGON TATTOO (2011)
08/16/2020 DEEP BLUE SEA
08/17/2020 JESSICA JONES, GAMEFACE
08/18/2020 JESSICA JONES
08/19/2020 AMERICAN GODS
08/20/2020 THE WORLD IS NOT ENOUGH
08/21/2020 SCANNERS
08/22/2020 STRICTLY BALLROOM, KATH & KIM
08/23/2020 STAR TREK: PICARD (2 episodes)
08/24/2020 STAR TREK: PICARD (2 episodes)
08/25/2020 STAR TREK: PICARD (2 episodes)
08/26/2020 STAR TREK: PICARD (2 episodes)
08/27/2020 STAR TREK: PICARD (2 episodes)
08/28/2020 THE BABYSITTER, KATH & KIM
08/29/2020 HOW TO BUILD A GIRL
08/30/2020 JANE EYRE (2011)
08/31/2020 AMERICAN GODS
09/01/2020 JESSICA JONES
09/02/2020 DR. GOLDFOOT AND THE BIKINI MACHINE
09/03/2020 OCEAN'S ELEVEN (2001)
09/04/2020 AMERICAN MOVIE
09/07/2020 JESSICA JONES, KATH & KIM
09/08/2020 AMERICAN GODS
09/09/2020 JESSICA JONES
09/10/2020 SILENCE OF THE LAMBS
09/11/2020 POINT BREAK (1991)
09/12/2020 THE LOST BOYS
09/13/2020 28 DAYS LATER
09/14/2020 JESSICA JONES, KATH & KIM
09/15/2020 JESSICA JONES, KATH & KIM
09/16/2020 JESSICA JONES, KATH & KIM
09/17/2020 JESSICA JONES
09/18/2020 LADY VENGEANCE
09/19/2020 THE BABYSITTER: KILLER QUEEN
09/20/2020 HAGAZUSSA
09/21/2020 AKIRA
09/22/2020 AMERICAN GODS
09/23/2020 COLOR OUT OF SPACE, THE CULTURE CODE (Daniel Coyle)
09/24/2020 A LEAGUE OF THEIR OWN
09/25/2020 MIAMI VICE
09/26/2020 THE COOK, THE THIEF, HIS WIFE, & HER LOVER
09/27/2020 THE HAUNTING OF HILL HOUSE
09/28/2020 THE HAUNTING OF HILL HOUSE
09/29/2020 THE HAUNTING OF HILL HOUSE
09/30/2020 THE HAUNTING OF HILL HOUSE
10/01/2020 BRIDESMAIDS
10/02/2020 MAD MAX FURY ROAD
10/03/2020 SNATCH
10/04/2020 ICHI THE KILLER
10/05/2020 THE HAUNTING OF HILL HOUSE
10/06/2020 THE HAUNTING OF HILL HOUSE
10/08/2020 ENOLA HOLMES, WORK RULES! (Lazlo Bock)
10/09/2020 DIABOLIQUE
10/10/2020 BACK TO THE FUTURE, BACK TO THE FUTURE PART II
10/11/2020 12 MONKEYS
10/12/2020 THE HAUNTING OF HILL HOUSE
10/13/2020 THE HAUNTING OF HILL HOUSE
10/15/2020 THE HAUNTING OF HILL HOUSE
10/18/2020 INSIDE OUT
10/19/2020 THE HAUNTING OF HILL HOUSE
10/20/2020 I LOVE DICK (2 episodes)
10/22/2020 I LOVE DICK (2 episodes)
10/23/2020 THE BANK JOB, I LOVE DICK
10/24/2020 THE GREAT BEAUTY
10/25/2020 I LOVE DICK (3 episodes)
10/26/2020 HOW TO SELL DRUGS ONLINE (FAST) (2 episodes)
10/27/2020 HOW TO SELL DRUGS ONLINE (FAST) (2 episodes)
10/29/2020 WARGAMES
10/30/2020 IN THE MOOD FOR LOVE, KATH & KIM
10/31/2020 MANDY, TRUTH SEEKERS
11/01/2020 THE LORD OF THE RINGS (1978), SPIDER-MAN: INTO THE SPIDER-VERSE
11/02/2020 THE MANDALORIAN
11/03/2020 HACKERS
11/05/2020 X-FILES
11/06/2020 DON'T TELL MOM THE BABYSITTER'S DEAD
11/07/2020 BATMAN RETURNS
11/08/2020 THE MANDALORIAN
11/09/2020 BLACK MIRROR, KATH & KIM
11/10/2020 THE HAUNTING OF BLY MANOR
11/12/2020 THE HAUNTING OF BLY MANOR, KATH & KIM
11/13/2020 INTERVIEW WITH A VAMPIRE
11/14/2020 BIRD BOX, THE INSIDER'S GUIDE TO CULTURE CHANGE (SIOBHAN MCHALE)
11/15/2020 THE HAUNTING OF BLY MANOR
11/16/2020 THE HAUNTING OF BLY MANOR
11/17/2020 THE HAUNTING OF BLY MANOR
11/19/2020 THE HAUNTING OF BLY MANOR
11/20/2020 THE LIVES OF OTHERS
11/21/2020 THE VOID, DOCTOR WHO, THE MANDALORIAN
11/22/2020 THE HAUNTING OF BLY MANOR, DOCTOR WHO
11/23/2020 THE HAUNTING OF BLY MANOR (2 episodes)
11/24/2020 KILLING EVE (2 episodes)
11/25/2020 KILLING EVE (2 episodes), DOCTOR WHO, KATH & KIM
11/28/2020 KAALI KHUHI
11/29/2020 KILLING EVE (2 episodes)
11/30/2020 KILLING EVE, THE MANDALORIAN (2 episodes)
12/01/2020 DEUTSCHLAND 83
12/03/2020 DEUTSCHLAND 83
12/04/2020 WONDER WOMAN
12/05/2020 LIZZIE
12/06/2020 IT COMES AT NIGHT
12/07/2020 DEUTSCHLAND 83
12/08/2020 DEUTSCHLAND 83
12/10/2020 DEUTSCHLAND 83
12/11/2020 THE MANDALORIAN (2 episodes), THE HOBBIT (1977)
12/12/2020 HAPPIEST SEASON, HOMELAND
12/13/2020 DEUTSCHLAND 83 (2 episodes)
12/14/2020 DEUTSCHLAND 83
12/15/2020 THE QUEEN'S GAMBIT
12/16/2020 THE QUEEN'S GAMBIT (2 episodes)
12/17/2020 THE QUEEN'S GAMBIT (2 episodes)
12/18/2020 THE QUEEN'S GAMBIT (2 episodes)
12/19/2020 TENET
12/20/2020 DIE HARD
12/21/2020 HIGH SOCIETY
12/22/2020 LORO
12/23/2020 THE CITY OF LOST CHILDREN
12/24/2020 GREMLINS
12/25/2020 HOW GOOGLE WORKS (Eric Schmidt and Dr. Jonathan Rosenberg), THE COLDEST CITY (Antony Johnston, Sam Hart), WONDER WOMAN 1984
12/26/2020 HOMELAND, GOOD BYE LENIN!
12/27/2020 ALIEN RESURRECTION
12/28/2020 THE CRYSTAL WORLD (J.G. Ballard), A HISTORY OF VIOLENCE, TED LASSO (2 episodes)
12/29/2020 THE MIDNIGHT SKY
12/30/2020 ANNIHILATION (Jeff VanderMeer), DIE HARD 2, TED LASSO (2 episodes)