For the past few months I've been in close contact with a few of my colleagues in the Tokyo office of my company and, through them, with Shigeo Tatsumi, Xbox.com Japan Webmaster and community manager of sorts. Part of our conversation have been about sharing information and thoughts about expanding the community relations that Shigeo has been doing for some time already in Japan. When we last talked in early June, Shigeo planned to take the already smart things he has been doing since the launch of the original Xbox to a new level in early July. That time is finally here.Taking a cue from the creation of the Gamerscore blog, Xbox Japan has launched an employee blog for all things community related in Japan. Right now, only Shigeo is writing on the blog, but that might change in the future. So far, he's posted a lot of things already — from upcoming demos (Zegapain XOR) to videos about the quick charge kit (he's in the video) and what seems to be a Halo 2 comedy routine to just posting what is new on the Xbox Live Marketplace. I'm interested in seeing where this goes, but I think Shigeo is off to a great start, mixing his own vision with the usefulness of a more official version of MajorNelson.com and the aforementioned Gamerscoreblog.com. I've already got this as an (unfortunately) auto-translated bookmark on my daily list of sites to check out.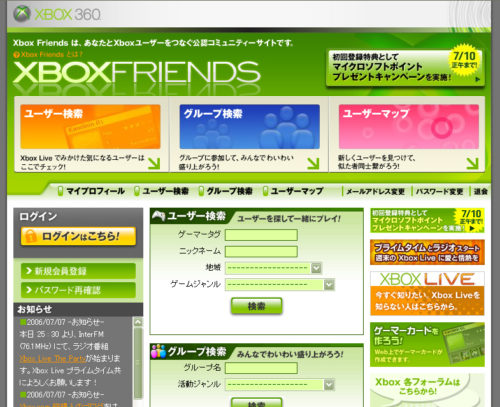 The other part to the community program in Japan is the launch of the Xbox Friends web site. Social networks and networking are fairly big in Japan and it seems a lot of people are connected with their friends in a lot of different ways (in Japan and in the rest of the world naturally). Of course, Xbox Live is supposed to add another way friends all over the world are connected. The challenge in Japan seems to be that just randomly running into someone on Live, who may not even speak Japanese, to play a game with — never mind actually put on your Friends list — is an awkward social situation more often than not. This is where Xbox Friends comes in. From what I understand Xbox Friends basically looks to supplement the existing friends list features on Xbox.com to help gamers in Japan find new friends that share things in common by including information not available on Xbox Live such as prefecture, age and profession among other things. This information was willingly given by the gamers in order to join Xbox Friends, since that's the whole purpose of the site. On Xbox Friends, gamers can create groups such as clans, guilds, student clubs, etc. and they can also search these groups. On home page for the Xbox Friends site itself, there are three main tabs for search: user search, group search (search for gamer groups according to game genre) and user map search.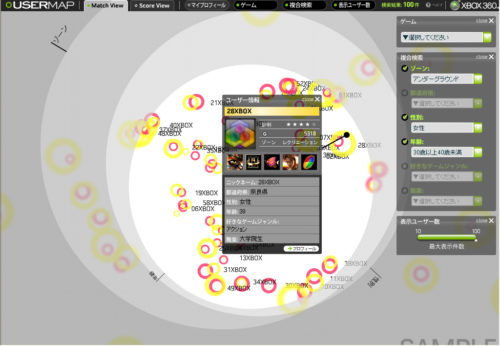 This is what the most interesting part of Xbox Friends is — the "user map" function. Basically, you start with selecting a game title and then on the next page you can choose to narrow down your user map search by a few categories. They include: Gamer Zone, prefecture, gender, age (minors cannot be searched), favorite game genre, and profession. The search result is a Flash-based user map and the type of user map you get — score view or match view — depends on what criteria you did or did not select to search by. You can also narrow down the number of results returned by using the 10 – 100 slider bar on the right side, so that the user map you get isn't too busy and you can pick out a Gamertag to choose from to view. From these results, gamers in Japan can now find someone to request to be a friend on Xbox Live and not have it totally be random. It's definitely a great idea and something that is needed out there. I hope that Japanese gamers put it to full use.