One of my favorite film directors, Steven Soderbergh, has been cataloging the movies, TV shows, and plays he has watched, along with the books and short stories he has read, over the period of a year and then publishing the list every year since 2009. In 2015, one of my favorite sites, FiveThirtyEight, turned his Seen, Read 2014 list into an eye-catching, informative graph.
You can find Steven's lists from prior years here: 2018, 2017, 2016, 2015 2014, 2013, 2012, 2011, 2010, 2009.
Inspired by both the data tracking and resulting visualization, I started tracking what I watched and read throughout the year beginning in 2014. I continued to keep track the following years and now have published lists every year since. The results of my media consumption for 2018 are below.
I'm still not tracking video games. I haven't figured out a method I want to follow yet.
Trivia
I watched 130 TV shows (

-46

vs 2017), 31 movies (±0 vs 2017), and read 3 books (

-1

vs 2017).
My busiest day was on January 15, when I watched 6 episodes of the fantastic German Netflix show, Dark, in one day.
The 3 movies I watched in 1 day were all on a flight back from Europe. I watched Deadpool 2, Pacific Rim Uprising, and Molly's Game.
Seen, Read 2018 visualized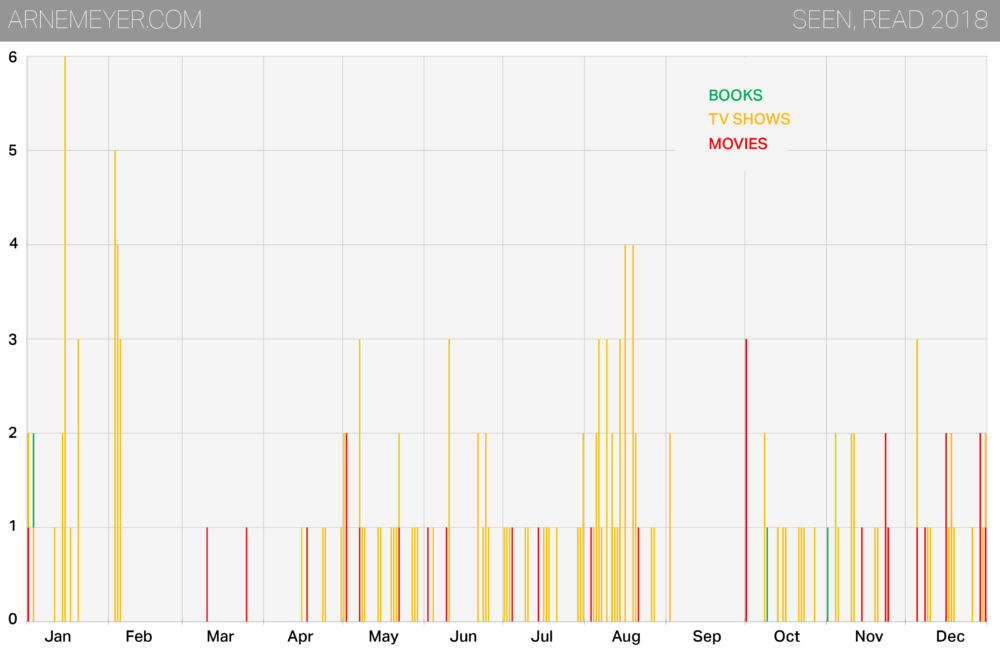 The Seen, Read 2018 list
All caps, bold: MOVIE
All caps: TV SERIES
All caps, italics: BOOK
Quotation marks: "Play"
01/01/2018 BLADE RUNNER 2049, DARK
01/03/2018 DARK, SAGA VOL. 8 (Brian K. Vaughn, Fiona Staples)
01/11/2018 BLACK MIRROR
01/14/2018 BLACK MIRROR, DARK
01/15/2018 DARK (6 episodes)
01/17/2018 HALT AND CATCH FIRE
01/20/2018 HANNIBAL (2 episodes), HALT AND CATCH FIRE
02/03/2018 ALTERED CARBON (5 episodes)
02/04/2018 ALTERED CARBON (3 episodes)
02/05/2018 ALTERED CARBON (2 episodes)
03/10/2018 BLACK PANTHER
03/25/2018 I, TONYA
04/15/2018 UGLY DELICIOUS
04/17/2018 IMPOSSIBLE LIGHT
04/23/2018 WESTWORLD
04/24/2018 UGLY DELICIOUS
04/30/2018 WESTWORLD
05/01/2018 UGLY DELICIOUS (2 episodes)
05/02/2018 THOR: RAGNAROK, EDGE OF TOMORROW
05/07/2018 THE DISASTER ARTIST, BIZARRE FOODS DELICIOUS DESTINATIONS (2 episodes)
05/08/2018 WESTWORLD
05/09/2018 UGLY DELICIOUS
05/14/2018 WESTWORLD
05/15/2018 UGLY DELICIOUS
05/19/2018 UGLY DELICIOUS
05/20/2018 WESTWORLD
05/21/2018 UGLY DELICIOUS
05/22/2018 ATOMIC BLONDE, THE MAN IN THE HIGH CASTLE
05/27/2018 WESTWORLD
05/28/2018 THE MAN IN THE HIGH CASTLE
05/29/2018 THE MAN IN THE HIGH CASTLE
06/02/2018 ANNIHILATION
06/04/2018 WESTWORLD
06/09/2018 THE BIG SICK
06/10/2018 THE MAN IN THE HIGH CASTLE (3 episodes)
06/21/2018 WESTWORLD (2 episodes)
06/23/2018 THE MAN IN THE HIGH CASTLE
06/24/2018 THE MAN IN THE HIGH CASTLE (2 episodes)
06/25/2018 THE MAN IN THE HIGH CASTLE
07/01/2018 WESTWORLD
07/02/2018 THE MAN IN THE HIGH CASTLE
07/03/2018 THE MAN IN THE HIGH CASTLE
07/04/2018 JODOROWSKY'S DUNE
07/09/2018 THE MAN IN THE HIGH CASTLE
07/10/2018 THE MAN IN THE HIGH CASTLE
07/14/2018 WHAT WE DO IN THE SHADOWS
07/16/2018 THE MAN IN THE HIGH CASTLE
07/17/2017 THE MAN IN THE HIGH CASTLE
07/18/2018 THE MAN IN THE HIGH CASTLE
07/21/2018 THE MAN IN THE HIGH CASTLE
07/29/2018 MINDHUNTER
07/30/2018 MINDHUNTER
07/31/2018 MINDHUNTER (2 episodes)
08/04/2018 MINDHUNTER
08/05/2018 MINDHUNTER (2 episodes)
08/06/2017 MINDHUNTER
08/07/2018 MINDHUNTER
08/11/2018 MINDHUNTER, A QUIET PLACE
08/13/2018 CHEF'S TABLE
08/14/2018 GLOW (3 episodes)
08/19/2018 GLOW (4 episodes)
08/20/2018 GLOW (2 episodes)
08/26/2018 GLOW
08/27/2018 DARK
09/02/2018 DARK (2 episodes)
08/03/2018 SOLO
08/06/2018 THE POST, DARK (2 episodes)
08/09/2018 DARK (3 episodes)
08/11/2018 GLOW (2 episodes)
08/12/2018 GLOW
08/14/2018 CASINO ROYALE
08/16/2018 GLOW, TOM CLANCY'S JACK RYAN (3 episodes)
08/21/2018 SPIDER-MAN HOMECOMING
10/01/2018 DEADPOOL 2, PACIFIC RIM UPRISING, MOLLY'S GAME
10/08/2018 GLOW, TOM CLANCY'S JACK RYAN
10/09/2018 SAGA VOL. 9 (Brian K. Vaughn, Fiona Staples)
10/13/2018 TOM CLANCY'S JACK RYAN
10/15/2018 TOM CLANCY'S JACK RYAN
10/16/2018 GLOW
10/21/2018 THE MAN IN THE HIGH CASTLE
10/22/2018 THE MAN IN THE HIGH CASTLE
10/23/2018 THE MAN IN THE HIGH CASTLE
10/27/2018 THE MAN IN THE HIGH CASTLE
11/01/2018 BLOODBORNE: THE DEATH OF SLEEP (Aleš Kot, Piotr Kowalski)
11/04/2018 THE MAN IN THE HIGH CASTLE (2 episodes)
11/05/2018 THE MAN IN THE HIGH CASTLE
11/10/2018 THE MAN IN THE HIGH CASTLE (2 episodes)
11/11/2018 THE MAN IN THE HIGH CASTLE, THE CHILLING ADVENTURES OF SABRINA
11/14/2018 MIAMI VICE
11/19/2018 THE CHILLING ADVENTURES OF SABRINA
11/20/2018 THE CHILLING ADVENTURES OF SABRINA
11/23/2018 UNBREAKABLE, SPLIT
11/24/2018 CASTAWAY
12/05/2018 MISSION IMPOSSIBLE: FALLOUT, THE CHILLING ADVENTURES OF SABRINA (2 episodes)
12/08/2018 THE WORLD'S END
12/09/2018 THE CHILLING ADVENTURES OF SABRINA
12/10/2018 THE CHILLING ADVENTURES OF SABRINA
12/16/2018 RAISING KRATOS, GODZILLA
12/17/2018 THE CHILLING ADVENTURES OF SABRINA
12/18/2018 THE CHILLING ADVENTURES OF SABRINA (2 episodes)
12/19/2018 GRAND PRIX DRIVER
12/26/2018 THE CHILLING ADVENTURES OF SABRINA
12/29/2018 GROUNDHOG DAY, THE FOG OF WAR
12/30/2019 ALTERED CARBON
12/31/2019 ALTERED CARBON, BLADE OF THE IMMORTAL