One of my favorite film directors, Steven  Soderbergh, has been cataloging the movies, TV shows, and plays he has watched, along with the books and short stories he has read, over the period of a year and then publishing the list every year since 2009. In 2015, one of my favorite sites, FiveThirtyEight, turned his Seen, Read 2014 list into an eye-catching, informative graph.
You can find Steven's lists from prior years here: 2017, 2016, 2015 2014, 2013, 2012, 2011, 2010, 2009.
Inspired by both the data tracking and resulting visualization, I started tracking what I watched and read throughout the year beginning in 2014. I continued to keep track the following years and now have published lists for 2015 and 2016. The results of my media consumption for 2017 are below.
Unfortunately I'm still not tracking video games. Perhaps next year when I figure out how to approach tracking playing games – whether it's by session, or by completion. And answering "what exactly counts as a session?"
Trivia
I watched 176 TV shows (+

66

 vs 2016), 41 movies (

-13

 vs 2016), and read 4 books (

-3

 vs 2016).
My busiest day was on November 1, when I watched 9 episodes of Homeland in one day.
I didn't manage to wach more than 3 movies in one day — on February 8. It shouldn't come as a surprise that was on my flight from London to Los Angeles. I watched The Intervention, Doctor Strange, and Denial.
Seen, Read 2017 visualized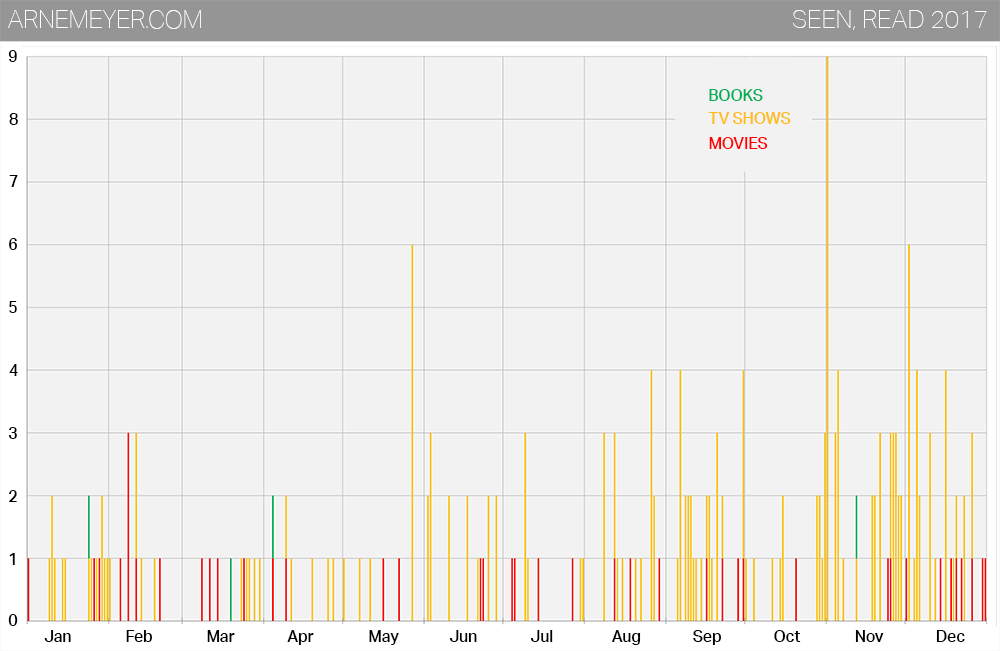 The Seen, Read 2017 list
All caps, bold: MOVIE
All caps: TV SERIES
All caps, italics: BOOK
Quotation marks: "Play"
01/01/2017 MICHAEL CLAYTON
01/09/2017 DEUTSCHLAND 83
01/10/2017 DEUTSCHLAND 83 (2 episodes)
01/11/2017 THE OA
01/14/2017 DEUTSCHLAND 83
01/15/2017 DEUTSCHLAND 83
01/24/2017 DEUTSCHLAND 83, THE 15 COMMITMENTS OF CONSCIOUS LEADERSHIP (Jim Dethmer, Diana Chapman, Kaley Klemp)
01/25/2017 MR. ROBOT
01/26/2017 THE LOVE WITCH
01/27/2017 MR. ROBOT
01/28/2017 THE HANDMAIDEN
01/29/2017 MR. ROBOT (2 episodes)
01/30/2017 DEUTSCHLAND 83
01/31/2017 DEUTSCHLAND 83
02/01/2017 DEUTSCHLAND 83
02/05/2017 THE ACCOUNTANT
02/08/2017 THE INTERVENTION, DOCTOR STRANGE, DENIAL
02/11/2017 JOHN WICK, DEUTSCHLAND 83 (2 episodes)
02/13/2017 DEUTSCHLAND 83
02/18/2017 MR. ROBOT
02/20/2017 THE EDGE OF TOMORROW
03/08/2017 BATMAN BEGINS
03/11/2017 LOGAN
03/14/2017 THE DARK KNIGHT RISES
03/19/2017 PLAYING TO WIN: HOW STRATEGY REALLY WORKS (A.G. Lafley, Roger L. Martin)
03/23/2017 MIND OF A CHEF
03/24/2017 FANTASTIC BEASTS AND WHERE TO FIND THEM
03/25/2017 MIND OF A CHEF
03/26/2017 MIND OF A CHEF
03/28/2017 MR. ROBOT
03/30/2017 MR. ROBOT
04/04/2017 THE MAGNIFICENT SEVEN (2016), SAGA VOL.7 (Brian K. Vaughn, Fiona Staples)
04/09/2017 SNOWDEN, MR. ROBOT
04/11/2017 MR. ROBOT
04/19/2017 MR. ROBOT
04/25/2017 GIRLS
04/27/2017 GIRLS
05/01/2017 MR. ROBOT
05/07/2017 MR. ROBOT
05/11/2017 MR. ROBOT
05/16/2017 PACIFIC RIM
05/22/2017 ARRIVAL
05/27/2017 THE SAME SKY (6 episodes)
06/02/2017 TWIN PEAKS (2 episodes)
06/03/2017 TWIN PEAKS (2 episodes), HOUSE OF CARDS
06/10/2017 TWIN PEAKS, SHERLOCK
06/17/2017 TWIN PEAKS, SHERLOCK
06/21/2017 SHERLOCK
06/22/2017 INDIE GAME: THE MOVIE
06/23/2017 CATFIGHT
06/25/2017 TWIN PEAKS (2 episodes)
06/28/2017 SHERLOCK, THE SAME SKY
07/04/2017 CAPTURING REALITY: THE ART OF DOCUMENTARY
07/05/2017 INDIE GAME: LIFE AFTER
07/09/2017 THE SAME SKY (3 episodes)
07/10/2017 DEUTSCHLAND 83
07/14/2017 JOHN WICK: CHAPTER 2
07/27/2017 MISS SLOANE
07/30/2017 TWIN PEAKS
07/31/2017 GAME OF THRONES
08/08/2017 GAME OF THRONES (3 episodes)
08/12/2017 TWIN PEAKS (2 episodes), GHOST IN THE SHELL
08/13/2017 GAME OF THRONES
08/15/2017 GIRLS
08/18/2017 ATOMIC BLONDE
08/20/2017 GAME OF THRONES
08/22/2017 THE DEFENDERS
08/26/2017 TWIN PEAKS (4 episodes)
08/27/2017 TWIN PEAKS. GAMES OF THRONES
08/29/2017 VIDEODROME
09/05/2017 DEUTSCHLAND 83
09/06/2017 THE SAME SKY (4 episodes)
09/08/2017 TWIN PEAKS (2 episodes)
09/09/2017 ANTHONY BOURDAIN: PARTS UNKNOWN, HALT AND CATCH FIRE
09/10/2017 SOUTH PARK (2 episodes)
09/11/2017 HALT AND CATCH FIRE
09/12/2017 HALT AND CATCH FIRE
09/14/2017 HALT AND CATCH FIRE
09/16/2017 ALIEN COVENANT, SONS OF ANARCHY
09/17/2017 HALT AND CATCH FIRE (2 episodes)
09/18/2017 HALT AND CATCH FIRE
09/20/2017 DEUTSCHLAND 83 (3 episodes)
09/22/2017 HALT AND CATCH FIRE, ROGUE ONE: A STAR WARS STORY
09/28/2017 GET OUT
09/30/2017 BLADE RUNNER: BLACK OUT 2022, ANTHONY BOURDAIN: PARTS UNKNOWN, HOMELAND, THE HANDMAID'S TALE
10/01/2017 THE HANDMAID'S TALE
10/04/2017 THE HANDMAID'S TALE
10/11/2017 THE HANDMAID'S TALE
10/14/2017 HANNIBAL
10/15/2017 HANNIBAL, THE HANDMAID'S TALE
10/20/2017 BLADE RUNNER 2049
10/28/2017 HANNIBAL, THE HANDMAID'S TALE
10/28/2017 THE HANDMAID'S TALE
10/29/2017 THE HANDMAID'S TALE (2 episodes)
10/30/2017 THE HANDMAID'S TALE
10/31/2017 HOMELAND (3 episodes)
11/01/2017 HOMELAND (9 episodes)
11/04/2017 HANNIBAL (2 episodes), STRANGER THINGS
11/05/2017 HANNIBAL (3 episodes), STRANGER THINGS
11/07/2017 STRANGER THINGS
11/12/2017 STRANGER THINGS, SIGNIFICANT ZERO: HEROES, VILLAINS, AND THE FIGHT FOR ART AND SOUL IN VIDEO GAMES (Walt Williams)
11/18/2017 STRANGER THINGS, HANNIBAL
11/19/2017 HANNIBAL, STRANGER THINGS
11/21/2017 STRANGER THINGS (3 episodes)
11/24/2017 KONG: SKULL ISLAND
11/25/2017 HANNIBAL (2 episodes), NOCTURNAL ANIMALS
11/26/2017 HANNIBAL (3 episodes)
11/27/2017 MINDHUNTER (3 episodes)
11/28/2017 MINDHUNTER (2 episodes)
11/29/2017 MINDHUNTER (2 episodes)
12/01/2017 LADY BIRD
12/02/2017 HANNIBAL (3 episodes), MINDHUNTER (3 episodes)
12/04/2017 THE PUNISHER
12/05/2017 THE PUNISHER (4 episodes)
12/06/2017 THE PUNISHER (2 episodes)
12/10/2017 HANNIBAL (2 episodes), THE PUNISHER
12/12/2017 THE PUNISHER
12/14/2017 I'LL NEVER FORGET WHAT'S'ISNAME
12/16/2017 HANNIBAL (2 episodes), THE PUNISHER (2 episodes)
12/18/2017 THE FIRST MONDAY IN MAY
12/19/2017 IRON CHEF
12/20/2017 THE CIRCLE, IRON CHEF
12/22/2017 STAR WARS: THE LAST JEDI
12/23/2017 HANNIBAL (2 episodes)
12/26/2017 HALT AND CATCH FIRE, RISK, DARK
12/30/2017 MAPPLETHORPE: LOOK AT THE PICTURES
12/31/2017 CITY OF GOLD