Last week was THE week. As in the week where all of the work I do more or less culminates in a one week-long event I wrote about last month which includes the actual show days of E3. Here is what happened. Finally.
Pre-show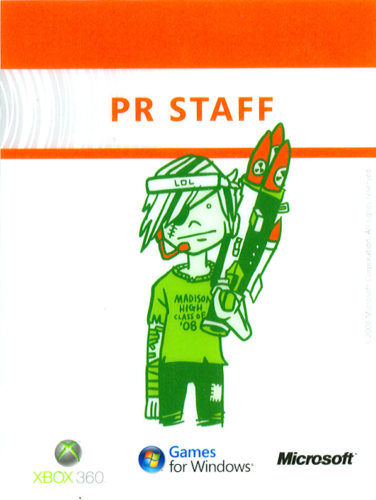 The first two days of the week before E3 started revolved around press briefings/conferences, both Microsoft's and those of their direct competitors. Monday was Sony's press conference and, well, it was surprising. Otherwise, we were all just getting ready for our own press briefing over at Grauman's Chinese Theater followed by a reception at the nearby Roosevelt Hotel to take place the next day. I also picked up my E3 Exhibitor badge on Monday. On Tuesday we were all at our places in a dome just next to Grauman's Chinese Theater waiting for the onslaught of journalists to come check-in once the Nintendo briefing let out. Stephen (right) and Anthony (left) from Xbox Addict, Michael from Next Level Gaming in white with Danny Peña from Gamertag Radio peeking in the back, and Cornelis from Xbox Users Group (in blue) were all already waiting in line. I was in charge of making sure the people I work with could get into the briefing, in the event that they weren't on the master list or didn't have their passes to get in. Although hundreds of people showed up, everybody did their best to get everyone inside as quickly as possible. And just like that, all of sudden nearly everybody had disappeared, because Microsoft's E3 press briefing was starting. While everyone was waiting for the briefing to be over, we went to get ready for the reception at the Roosevelt Hotel across the street.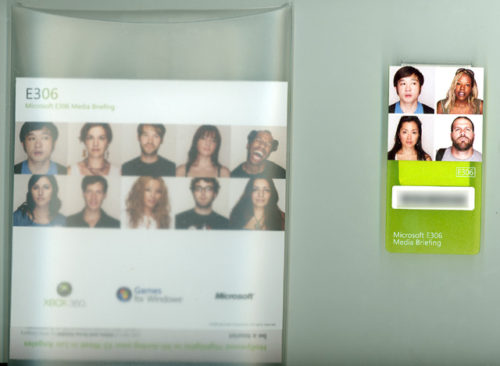 At the Roosevelt, the pool and the front lobby or reception area was converted for the reception and there were Xbox 360 consoles and LCD flat panels everywhere running just about every game coming out there is. From a whole bank of consoles showing upcoming Xbox Live Arcade titles like Contra, Galaga, Pac-Man and Lumines Live, to a mini-theater to watch Gears of War being demoed to small rooms around the pool where journalists could demo Too Human, Mass Effect, Blue Dragon, Viva Pinata and more. I didn't quite expect what that was going to turn into once over a thousand people from the press briefing came in and filled the place — it was so empty and peaceful for an hour. It was quiet enough that I saw Tomonobu Itagaki come up to the entrance to the event with some of his staff and milled around for a while at our extremely imposing sign that said the pool was closed for a private event. Then just about an hour and a half after the briefing started, the floodgates opened and the hotel was packed in an instant. Although I had to run back and forth to Grauman's Chinese Theater to help some of my contacts get into the Roosevelt, I managed to meet a couple more of the people I work with quite a bit but have never had the pleasure of meeting: Jonas from DailyGame.net and Howard from PopCultureShock. I also ran into Amadeo from Amped IGO right at the tail end of the reception. After that, it was time to to some normal work, head out to dinner with our team and then get to bed early for the mayhem that the three days of E3 were supposed to be.
E3 show days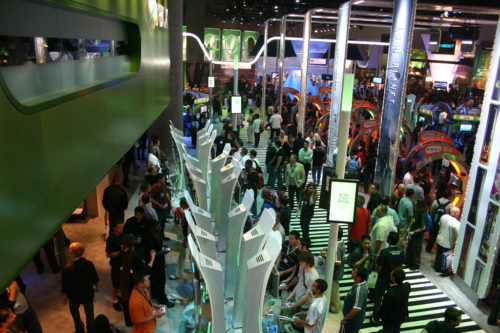 When you work the show, your days start early — mine were 8 AM or 8:30 AM early. The show floor opens at 9 AM and therefore you can expect people to show up at the booth right around then. So you had to be there and be ready for the onslaught by then. At least on the first day, at 9 AM, the floor opened only to a select group of media that had early access instead of everyone with a badge, but that didn't stop it from starting the week in the most hectic fashion as those of us handling the appointments and escorting media to their appointments had rushes of people to help every hour and half-hour every day of the show. In between those times, we were helping anybody who was running late, answering questions from anyone who walked up and networking with colleagues and journalists whom you've worked with. Every single day rushed by faster than I could have thought and every single hour was spent on my feet although by the end of the day and the show, my feet were nowhere near as bad as I thought it would have been.
What really impressed me about the show, not having been to a "real" trade show in my life, is the sheer enormity and production behind each company's booth. Activision had a full half-pipe built in their booth space. The Microsoft booth was huge and the meeting rooms were a full two floors. I can't imagine that they could build that whole thing, so solidly and look and work so well, in the relatively short timespan that they did.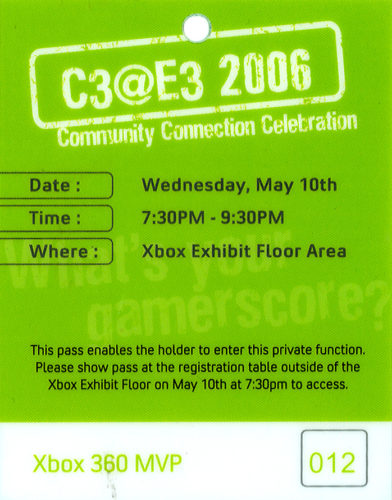 On Wednesday night, we held our C3@E3 party where we invited a reasonably large number of bloggers, community, Xbox MVPs and some journalists. Over 400 people showed up around 7 PM that night waiting to get let into the show floor after hours. We had arranged to get the people who came to our party to get onto the floor and over to our booth when the South Hall was pretty much devoid of people. We were finally all set at 7:30 PM, after everybody had calmly waited for the booth to be ready and in one huge group, the security guys and I led them in. Peter Moore kicked things off and then, for just about everybody, it was down to socializing and playing games. I had a good long conversation with BuddyC, Vark, some of Vark's programmer buddies at Bethesda and TekunoRobby for a good part of the party. Again I didn't even get to see much of the games being played, but the conversations we were having were worth it. I also met Chris, who works at Wideload with a bunch of ex-Bungie guys in Chicago and who worked on the Stubbs the Zombie game. Nicole Hamlett and her staff were pretty easy to pick out with their yellow TenTonHammer jerseys, so mark yet another person I work with that I finally met. The event was over far too quick and I still didn't get too see too many of the games in our booth in action but it was really great to hear everybody walk out and talk about how much they enjoyed our event. It was nice.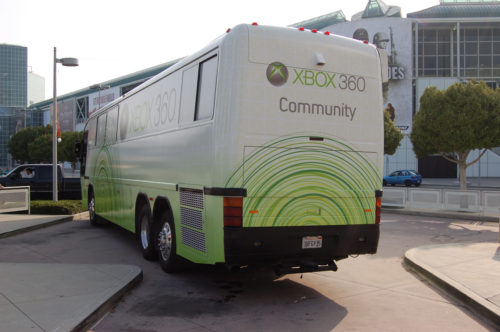 For the entire show, I never got the opportunity to visit the Community/Blogger Bus that was parked outside of the West Hall for all three days. Even the Washington Post wrote about the bus and bloggers at E3. Next time I'll have to make sure to drop by so I don't find myself writing about E3 over a week later still. I would have a had a better chance to really meet the writers from Joystiq and Kotaku rather than the minor contact I had when they showed up for their appointments.
During the week, I was also staffing a room where press were invited to see both Blue Dragon and Ninety-Nine Nights. This was the first I saw of Blue Dragon beyond the trailer that has been presented several times.
I got to see the opening scene and sequence and a couple of in-game scenarios. I'm looking forward to see how this shapes up by the time it gets released, but it's definitely very ambitious which is always a good sign. In the afternoon was Ninety-Nine Nights and I was treated to the fact that Tetsuya Mizuguchi was helping with the presentation of his title, Ninety-Nine Nights for the three sessions I staffed. Although I had met Mizuguchi-san before, it was really interesting to hear him talk about his new title, he was really into the story. On top of that, the Phantagram developer that was there demonstrating the game even said he is not as good as Mizuguchi-san!
By the end of the show, I was tired, sweaty and my feet did hurt. I got a quick chance to walk around the South and West Halls and see some of the games out from the various developers and publishers. E3 turned out to be not as bad and deafening as everyone I had talked to made it out to be. It was still hard work, it was still hectic, but I didn't spend time wishing for it to end. By the time it did end, I was ready to crash.