Something pretty cool happened as part of the work I do with Microsoft on Xbox 360 (and of course, Microsoft Games Studios). One of the pieces of what I do, but really run by someone else at my job, involves maintaining relationships with bloggers large and not so large. As my introduction on Xbox.com and in posts on some of the message boards I work on, I get to know a lot of regular gamers and, especially in the case of NeoGAF, a few developers and journalists. Obviously we invite them to things like the San Francisco event we had in March and we're doing a few things at E3 this year as well. One of the things we recognized at these events is that it has always been logistically difficult to provide Internet access to everyone that needs it to complete some sort of online communication, from journalists to bloggers to people on the message boards. This was especially true back in October 2005 when I attended an event in New York where all sorts of journalists came to preview the launch window game titles for the first time and, at night, we had PMS Clan members and message board members coming by to play and hang out. It would have been nice to give all of them some ability to go online.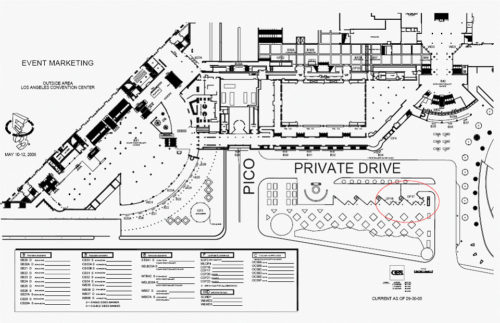 Going into our planning for E3, we recognized the need for these very same contacts and friends of ours to have ready access to the Internet. As John Porcaro over on the Microsoft side of things explains on the Gamerscore Blog, determining and getting approval on where we could put aside some physical space to let people hook up to the Internet. We couldn't put it anywhere in or near the Microsoft booth, there just wasn't room left, nor did we want to take some place that was out of the way — even if it was available. After much talking amongst ourselves and with the E3 staff, we got ourselves a nice big parking spot right out front of the Los Angeles Convention Center. Not only that, but the bus is this huge coach which will be conveniently wrapped in Xbox 360 branding. Of course, if you've been playing attention to the maps linked earlier, the bus just happens to be right in the route many people will take to head to the West Hall when going to check out Sony's and Nintendo's respective booths. Hopefully the bus will serve to distract them a just little.
My schedule has not been finalized yet, but I will be spending some time in and near the bus over the full three days of E3. Ask for me if you happen to drop by, I would be more than happy to meet you.
More details on who will be there, who is invited and how to find out if you can get invited to the bus at the aforementioned Gamerscore Blog.