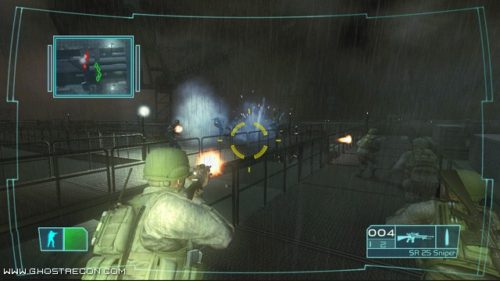 Last week I posted I had scheduled an online, multi-player game of Ghost Recon: Advanced Warfighter with Staci of Killer Betties. To make sure it wasn't just a two-player or, if was lucky, three-player, session, I also posted a couple threads on NeoGAF asking if anybody wanted to join in. Thankfully the response was, well, pretty overwhelming. Enough so that I was very glad Vark offered up his FiOS connection to host what could be a session with the maximum number of players.
On Saturday we didn't quite get started on time as Vark was having some home networking difficulties and I was already hosting a few four to six player games, quite well thankfully (I think). Once Vark got back online, it was on in a big way. I can't even remember everyone who was on off the top of my head. I think we hit about twelve people as our maximum over the four hour session. I probably had one of the best times I've had on Xbox Live since a few Halo 2 games back in the Spring of 2005.
We played nearly every imaginable game type, got all of the campaign co-op achievements for everyone (including the "Perfect Chapter 1" achievement) and played some super-long territory maps, where the kill count went over 400-500 enemy kills easy. Somehow I'm actually amazed someone didn't get the "Heavyweight" achievement by the end of the night. No matter how or when you look at it, it was memorable.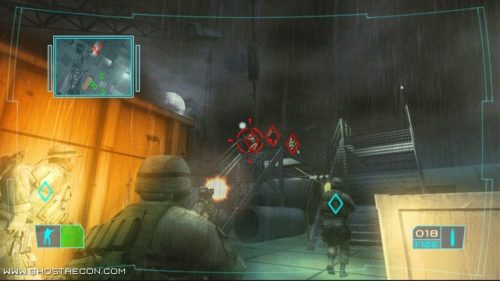 A couple of days later Staci posted an entry about her multi-player experience on Killer Betties and I'm glad she really liked it. I didn't realize it was her first time on Xbox Live over a headset even. It's really interesting that she picked marksman a lot, because I think in a lot of cases, the multiplayer games we played didn't necessarily lend itself to the slow strategic sniping that class is best at, at least in games where everyone is on the same side. I can see that being spectacular in versus games on most maps however. I wouldn't mind seeing more co-op campaigns that reward the type of gameplay that Ghost Recon became known for — slow, stealthy, quick deliberate kills — but that's not to say that GRAW plays any differently or worse, you can definitely adapt the game to the class you picked in most or all cases.
GRAW comes nowhere close to a fast paced FPS. What I would really like to set up somehow is a slow, intense one versus one or two versus two sniper game on the right map. A good ten minutes of cat and mouse would be incredible. At least in my head it is.