One of my favorite film directors, Steven  Soderbergh, has been cataloging the movies, TV shows, and plays he has watched, along with the books and short stories he has read, over the period of a year and then publishing the list every year since 2009. The FiveThirtyEight DataLab turned his 2014 list into an eye-catching, informative graph.
This year, he continued with Seen, Read 2016. You can find Steven's lists from prior years here: 2015 2014, 2013, 2012, 2011, 2010, 2009.
Inspired by both the data tracking and resulting visualization, I started tracking what I watched and read throughout the year beginning in 2014. I continued to keep track and published Seen, Read 2015 last year. The results of my media consumption for 2016 are below.
Unfortunately I'm still not tracking video games. Perhaps another year when I figure out the best way to approach tracking.
Trivia
I watched 110 TV shows (

-37

 vs 2015), 54 movies (equal), and read 7 books (

-8

vs 2015).
My busiest day was on January 22, when I watched 4 TV shows in one day — all of them were American Horror Story: Hotel. There's no doubt I love AHS: Hotel — I've seen this individual season 3 times.
I didn't manage to wach more than 3 movies in one day — on June 7. It shouldn't come as a surprise that was on my flight back from Europe. I watched The Big Short, Sex & Crime, and Miami Vice.
Travel continued to affect my consumption habits — in 2016 I managed to log over 95,571 flight miles (

-34,992

vs 2015) on about 50 total flights (

-42

vs 2015). That's nearly 4 times around the world!
Seen, Read 2016 visualized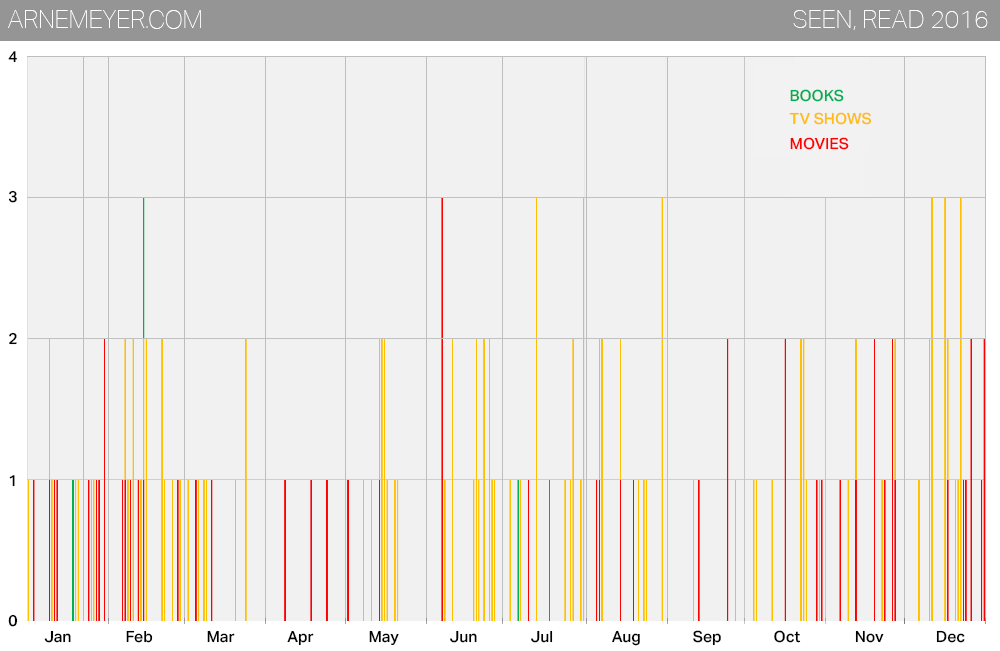 The Seen, Read 2016 list
All caps, bold: MOVIE
All caps: TV SERIES
All caps, italics: BOOK
Quotation marks: "Play"
01/01/2016 HALT AND CATCH FIRE
01/03/2016 MAD MAX: FURY ROAD
01/09/2016 STAR WARS: THE FORCE AWAKENS, AMERICAN HORROR STORY: HOTEL
01/10/2016 MAKING A MURDERER
01/11/2016 SICARIO
01/12/2016 EX MACHINA
01/18/2016 THE SHAPE OF DESIGN (Frank Chimero)
01/19/2016 AMERICAN HORROR STORY: HOTEL
01/20/2016 HOUSE OF CARDS
01/22/2016 AMERICAN HORROR STORY: HOTEL (4 episodes)
01/24/2016 WHAT WE DO IN SHADOWS
01/25/2016 THE X-FILES
01/26/2016 THE X-FILES
01/27/2016 THE GIRL WITH THE DRAGON TATTOO (EXTENDED EDITION PART 1)
01/28/2016 THE GIRL WITH THE DRAGON TATTOO (EXTENDED EDITION PART 2)
01/30/2016 THE GIRL WHO PLAYED WITH FIRE (EXTENDED EDITION PART 1), THE GIRL WHO PLAYED WITH FIRE (EXTENDED EDITION PART 2)
02/06/2016 5 TO 7
02/07/2016 BEST OF ENEMIES, REAL TIME WITH BILL MAHER
02/08/2016 REAL TIME WITH BILL MAHER
02/09/2016 SPECTRE
02/10/2016 REAL TIME WITH BILL MAHER, THE X-FILES
02/12/2016 DEADPOOL
02/13/2016 REAL TIME WITH BILL MAHER
02/14/2016 REAL TIME WITH BILL MAHER, THE MARTIAN, HUNGER MAKES ME A MODERN GIRL (Carrie Brownstein)
02/15/2016 THE X-FILES, BETTER CALL SAUL
02/21/2016 GIRLS, THE FIRST 48
02/22/2016 LOVE
02/25/2016 THE X-FILES
02/27/2016 STEVE JOBS
02/28/2016 GIRLS
03/02/2016 BETTER CALL SAUL
03/05/2016 LOVE
03/06/2016 GIRLS
03/08/2016 BETTER CALL SAUL
03/09/2016 BROAD CITY
03/11/2016 THE WITCH
03/20/2016 GIRLS
03/24/2016 FLAKED (2 episodes)
04/08/2016 BLACK MASS
04/18/2016 LOVE & ANARCHY
04/24/2016 THE REVENANT
05/01/2016 CARAVAGGIO: A LIFE SACRED AND PROFANE (Andrew Graham-Dixon), JOY
05/02/2016 CRYBABY
05/08/2016 GIRLS
05/11/2016 GAME OF THRONES
05/14/2016 GREEN ROOM, GIRLS
05/15/2016 FLAKED, GAME OF THRONES
05/16/2016 GAME OF THRONES (2 episodes)
05/17/2016 HOUSE OF CARDS
05/20/2016 THE LAYOVER: ROME
05/21/2016 HOUSE OF CARDS
06/07/2016 THE BIG SHORT, SEX & CRIME, MIAMI VICE
06/08/2016 GAME OF THRONES
06/11/2016 GAME OF THRONES, HOUSE OF CARDS
06/19/2016 GAME OF THRONES
06/20/2016 HOUSE OF CARDS (2 episodes)
06/21/2016 HOUSE OF CARDS
06/23/2016 HOUSE OF CARDS, THE LAYOVER: ROME
06/25/2016 HOUSE OF CARDS (2 episodes)
06/26/2016 GAME OF THRONES
06/27/2016 HOUSE OF CARDS
06/30/2016 HOUSE OF CARDS
07/03/2016 HOUSE OF CARDS
07/06/2016 Saga Vol. 6 (Brian K. Vaughn, Fiona Staples)
07/07/2016 REAL TIME WITH BILL MAHER
07/10/2016 ZERO DAYS
07/13/2016 HANNIBAL, FLAKED, VICE
07/18/2016 DAS REBOOT (Raphael Honigstein)
07/24/2016 THE WEST WING
07/26/2016 REAL TIME WITH BILL MAHER
07/27/2016 REAL TIME WITH BILL MAHER (2 episodes)
07/30/2016 HALT AND CATCH FIRE
07/31/2016 REAL TIME WITH BILL MAHER (3 episodes)
08/01/2016 HALT AND CATCH FIRE (2 episodes)
08/05/2016 SUICIDE SQUAD
08/06/2016 JOHN WICK, REAL TIME WITH BILL MAHER
08/07/2016 VICE PRINCIPALS, HALT AND CATCH FIRE
08/14/2016 SLOW WEST, STRANGER THINGS
08/19/2016 MORRIS FROM AMERICA
08/21/2016 STRANGER THINGS
08/23/2016 HALT AND CATCH FIRE
08/24/2016 HALT AND CATCH FIRE
08/30/2016 STRANGER THINGS (3 episodes)
09/11/2016 STRANGER THINGS
09/13/2016 X-MEN: APOCALYPSE
09/24/2016 MARVEL'S CAPTAIN AMERICA: CIVIL WAR, HOW TO BE SINGLE
09/27/2016 STRANGER THINGS
10/04/2016 STRANGER THINGS
10/05/2016 REAL TIME WITH BILL MAHER
10/11/2016 THE WEST WING
10/16/2016 HARRY POTTER AND THE DEATHLY HALLOWS – PART ONE, HARRY POTTER AND THE DEATHLY HALLOWS – PART TWO
10/22/2016 AMERICAN HORROR STORY: HOTEL (2 episodes)
10/23/2016 AMERICAN HORROR STORY: HOTEL (2 episodes)
10/24/2016 REAL TIME WITH BILL MAHER
10/28/2016 CRIMSON PEAK
10/29/2016 AMERICAN HORROR STORY: HOTEL
10/30/2016 13 HOURS
11/06/2016 GHOSTBUSTERS
11/09/2016 VICE NEWS TONIGHT
11/12/2016 DR. STRANGE, BLACK MIRROR
11/19/2016 ARRIVAL, CITIZENFOUR
11/22/2016 BLACK MIRROR
11/23/2016 STAR TREK BEYOND
11/26/2016 STAR WARS: THE FORCE AWAKENS, THE LIVES OF OTHERS
11/27/2016 BLACK MIRROR, THE LIVES OF OTHERS
12/06/2016 HALT AND CATCH FIRE
12/10/2016 WESTWORLD (2 episodes)
12/11/2016 WESTWORLD (3 episodes)
12/16/2016 WESTWORLD (3 episodes)
12/17/2016 WESTWORLD, THE MARTIAN
12/20/2016 DEADPOOL
12/21/2016 HANNAH ARENDT
12/22/2016 WESTWORLD, AMERICAN HORROR STORY: HOTEL (2 episodes)
12/23/2016 SNOWPIERCER
12/24/2016 ROGUE ONE
12/26/2016 13 ASSASSINS, GOOD BYE, LENIN!
12/30/2016 GUARDIANS OF THE GALAXY
12/31/2016 KUNG FURY, THE HOBBIT: AN UNEXPECTED JOURNEY